Lifting Up the World With a Oneness-Heart
The "Lifting Up the World with a Oneness-Heart" program is a unique award that was offered by Sri Chinmoy to recognise individuals from all walks of life who had inspired and uplifted humanity. Sri Chinmoy lifted the recipients overhead either with one arm or both arms using a specially constructed platform in a symbolic gesture of oneness with their uplifting achievements.
"I am trying with my capacity to encourage and inspire people in various walks of life who have inspired others in sports, literature, science or politics, or in their own personal lives. I lift them up to show my appreciation for their achievements,"

Sri Chinmoy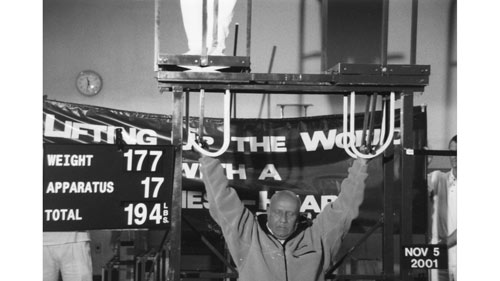 Beginning June 1988, Sri Chinmoy honoured more than 8,300 individuals in this manner, including Heads of State, diplomats, spiritual and religious leaders of many faiths, distinguished achievers in the arts and in literature, Nobel laureates and world class athletes. Sri Chinmoy also recognised individuals, less well known, but providing important public service, such as firemen, doctors, pilots and academics.
Speaking on the motivation for the lifting programme, Sri Chinmoy said:
"I am a truth-seeker and a God-lover. I pray and meditate so that I can establish my oneness with each and every human being in the whole world. I am lifting up the individuals who have contributed much to the world at large. They have inspired countless people on earth, and I feel it is obligatory on my part to show them some appreciation from the depth of my heart."

Sri Chinmoy
Selected recipients of the award
President Nelson Mandela - 9 March 1999.
Archbishop Desmond Tutu - 16 March 2004.
President Ranasinghe Premadasa of Sri Lanka - 4 January 1990.
President Jorge E. Illueca of Panama - 21 July 1989.
President Boris Trajkovski of Macedonia - 8 May 2002.
President Ramaswamy Venkataraman of India - 29 October 1994.
H.E. Dr. Jorge E. Illueca, former President of Panama - 15 May 2001.
Muhammad Ali - 12 June 2003.
Billie Jean King, tennis champion - 22 May 2003.
Sudhahota Carl Lewis - Olympic champion - 10 September 2001.
Tegla Laroupe, Marathon champion - 4 November 2004.
Susan Sarandon, actress - 23 April 2003.
Ravi Shankar, Indian musician - 20 September 2002.
Further reading